Happy belated Thanksgiving!
Well I have not had a computer since before Thanksgiving so I know this is a little late, but I haven't been able to get online. Life with Frances and Isabel has been keeping me busy though so I haven't missed my computer that much (and I have an Iphone for email). Now that we have settled into somewhat of a routine and Isabel takes a long nap in the afternoon I have found that I miss my laptop! My husband has promised me a new one for Christmas though so it shouldn't be long before I am able to update regularly again.
Since I haven't been able to get online I never got a chance to share my thankful Bo Bunny layout. I created this layout for the Thanksgiving post on the Bo Bunny blog. We were asked to create a thankful project. The think I am most thankful for is my family so I created this layout. The picture is from our Christmas photo shoot last year at JC Penny. Frances had an ear ache and was not cooperating at all! This was the best picture out of the hundred she took. So at least we had one good picture for our effort!
I used the Bo Bunny Olivia line and there is some journaling for my family on the back of the layout :)
On the bottom corner I layered the Olivia chipboard and cutouts from the Olivia patterned paper.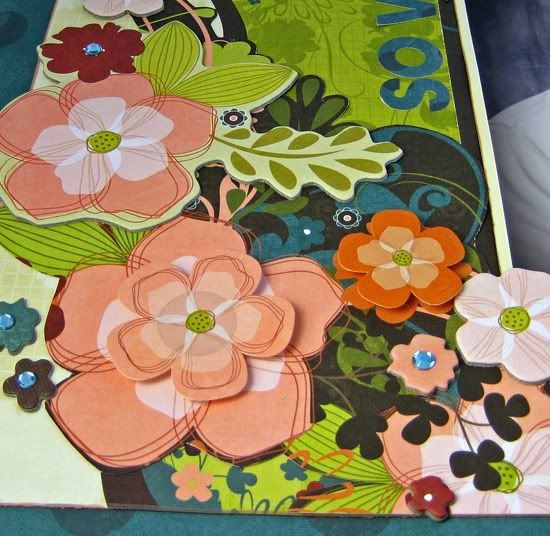 I just wrote about Thanksgiving and now I am on to Christmas! Boy time goes by quickly!
I have been working on some Christmas project for the Bo Bunny blog this month. Everyone asks how I have time to scrapbook with newborn. Well.... my little Frances who will be two on Christmas day loves to scrapbook. She calls it scraping book. So we have been spending some Mommy-daughter time together scraping book (as she would say). As soon as I get out my bag she goes to the table and gets excited. She has a notebook that is her scraping book and I give her my left over paper scraps, stickers and some markers. She tapes and draws in her book while I scrapbook. Of course this way takes me about three times longer to complete a project, but it is fun.
So here are the projects I have created with my little Frances.
First up is a little stocking to use as a place setting or card at your dinner table. I used a stocking templates that I bought in a package at Michaels for a $1.00. I used one for my template and Frances used the rest to draw on :). I traced the template onto some Noel paper, cut out and adhered around the edges to form a pocket. Then I decorated it with more Noel paper, Noel stickers and some left over Christmas decorations. I adhered the stockings with strong liquid adhesive so I would be able to put the silverware inside. You can add a name to each to use as a place setting on each plate or stuff a little treat inside for guests if you don't want to use them for silverware. And noticed I put the fork on the wrong side after I took picture! I guess I don't set the table enough! At my house I just throw a bunch of silverware on the kitchen island and it is help yourself.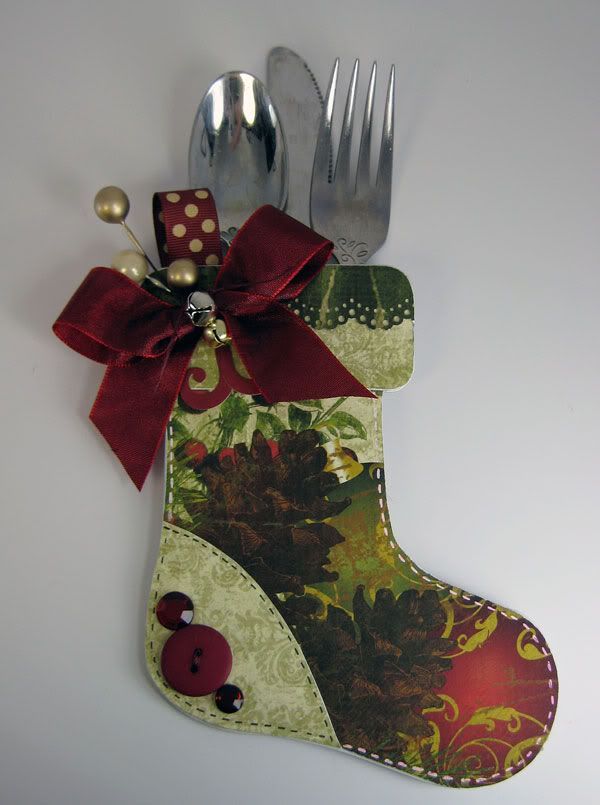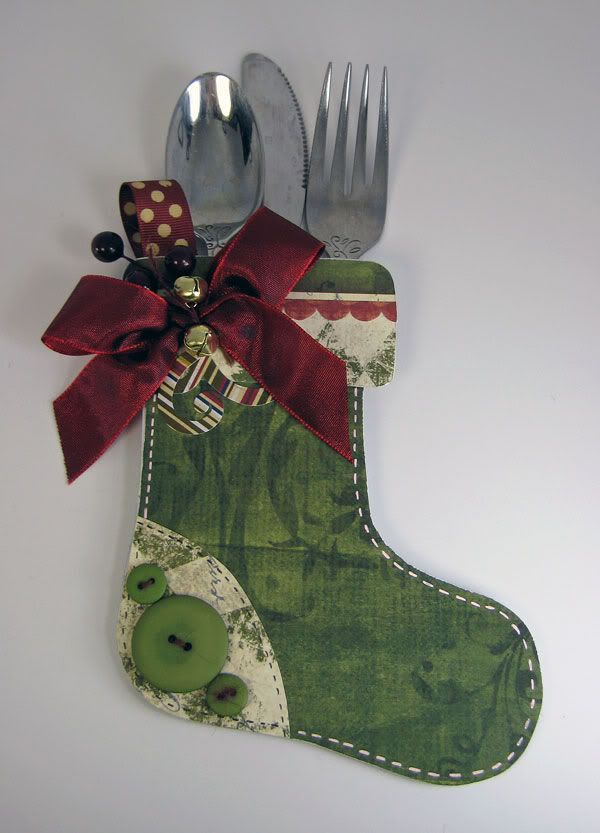 And now for some Christmas cards...
On both of my cards I used the Bo Bunny Winter Joy collection. It is so fun to use these non-traditional colors for Christmas cards!
On this card I used an embossing folder to give it some texture
and the Noel stamps to stamp my sentiment.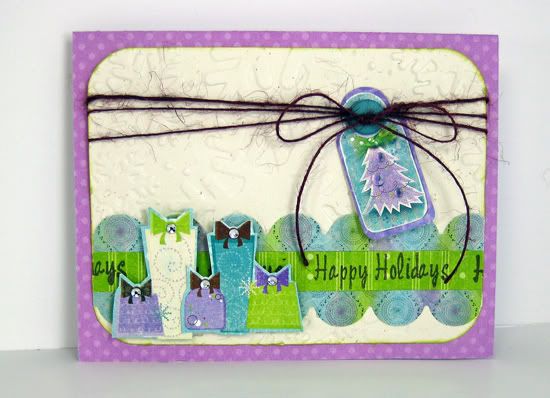 On this card I used the Winter Joy stamps to stamp my trees.
I stamped the green trees first and then the blue trees overlapping them.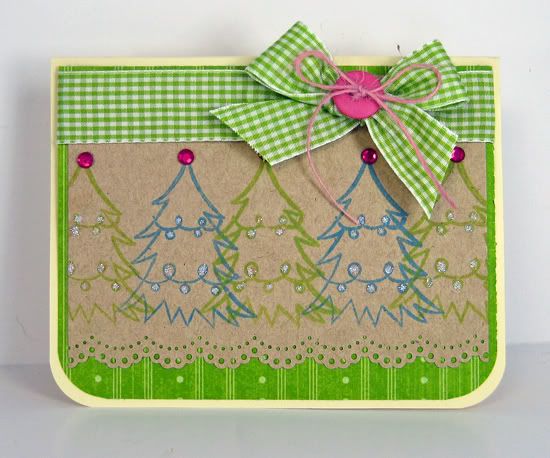 Please check out the
Bo Bunny blog
for the posts of these projects as the rest of the DT's work is just fabulous!